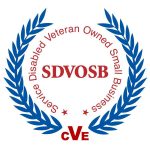 You may have seen or heard the term SDVOSB but what does it actually mean? SDVOSB stands for Service-Disabled Veteran-Owned Small Business and was signed into law in 2004. The distinction, as defined by the Department of Defense, is that it identifies SDVOSBs as unconditionally owned (at least 51%) and controlled by veterans and service-disabled veterans. The owner must hold the highest officer position in the company and the business must also satisfy the Small Business Association's (SBA) size standards. The Department of Defense believes that the sacrifices made by veterans in the service of our country need to be recognized at all levels of government. The goal of the program is to award at least 3% of all federal contracting to service-disabled veteran-owned small businesses every year.

Benefits of Partnering with a SDVOSB
There are many advantages to partnering with a SDVOSB. Service-Disabled Veteran-Owned Small Businesses are a win-win situation for the company, clients, and the government. Veterans have a leg up on the competition through this great program as the federal government and the Department of Veterans Affairs designates projects specifically for SDVOSB work. This makes a SDVOSB eligible for set-aside contracts, limits competition, and enhances their ability for construction opportunities. In turn, these advantages are passed down to companies that partner with a SDVOSB.
Partnering with a SDVOSB also fulfills requirements for supplier diversity spend for government and private construction projects. Not only does a SDVOSB meet your organization's goals, you know that the work is being done by those who possess military qualities— strong character, high moral code, loyalty, respect, and discipline.
When partnering with Valiant Group, a Service-Disabled Veteran-Owned Small Business, you are partnering with a company built on a foundation of honorable service to the United States. Our military experience sets a precedent for the work we do and we hold ourselves to a higher standard. We strive to maintain honest and open communication paired with focus, determination, and pride. We are committed to offering clients a level of service that is incomparable in the utilities and construction industry.
At Valiant Group, we are proudly veteran-owned and operated—and we also enjoy employing and working with veterans. Contact us to get started on your next project.