Healthcare Construction: Considerations for Success
Tips and industry secrets to build better healthcare facilities, reduce risk, and save money.
Planning for healthcare construction takes careful consideration. As with any construction project, the planning phase sets the tone for a project's many success factors, including timing, budget, and scope. We'll discuss some very uniquely challenging, yet crucial, factors to consider when planning healthcare construction projects.
Healthcare Facility Considerations
With any construction project, no two jobs are alike. Each project presents unique challenges. However, when it comes to healthcare facilities, there are special considerations that need to be addressed.
Here are some factors to plan for in healthcare construction:
Cleanliness and Safety
Maintaining cleanliness in a hospital, specialty care, assisted living, and other healthcare facilities is paramount. In many cases, new construction and/or renovations occur in, around, or on top of an already operational structure.  Therefore, it's particularly important to keep worksites clean and closed off from the rest of the facility.
Safety regulations are also a high priority when it comes to the planning and execution of healthcare construction. Maintaining a constant awareness of disease prevention measures along with local, state, and federal health regulations will ensure a smooth project cycle.
Barriers
In addition to keeping the construction environment clean and safe, one must also pay attention to special barriers. Design matters greatly in cases with dust control, negative air pressure, interstitial spaces, and ductwork. Should any particles or debris contaminate working spaces, the consequences could be drastic. Careful planning and prevention need to take place early on in the project.
Valiant Group has significant experience with ICRA (Infection Control Risk Assessment) classifications and measures for construction debris management and infection control. Included in this comprehensive process are thorough risk assessment, barrier construction, and airflow system separations to maintain the cleanliness of the site and existing facility.
Infrastructure Differences
Oftentimes, particularly with older buildings, hospitals have been renovated and expanded numerous times over their life cycle. These renovations and expansions might include new wings and upgraded equipment, leading to infrastructure differences.
Existing Structures
With buildings stitched together like a puzzle piece, a contractor must consider the many programmatic challenges of the existing structure including architecture, mechanical components, wiring, electrical, plumbing, HVAC, and communications systems—just to name a few! Furthermore, special gas lines and oxygen systems used in clinical settings will need careful planning as to not damage or disturb their service in a working hospital or patient facility.
Planning Process

The planning phase in healthcare construction management is so important that it will affect every step of the process. From the budget to timing, to scope, to personnel and materials, all of these elements are affected by planning.
Our planning process begins with a design-build focus. We look at each project and first ask, "What does this client need?" After determining the need, we can determine the "how." Next, we start with a preliminary investigation and feasibility study that evaluates current operations systems. This phase also examines architecture and structure to determine what can be possible for this construction project.
We focus on the existing structure at this planning stage. For example, if we were to install an MRI machine, it requires lead lining. Since the lead lining is heavy, installation on higher floors or in smaller spaces is not recommended. Therefore, we need to design the work around what's being brought in and find solutions to accommodate. From there, we look at what systems are needed and begin designing, refining, and scheduling.
Good planning helps to minimize spend while being efficient and practical. Planning gives contractors the agility and foresight to minimize the effect of unforeseen issues. We recognize that issues can arise at any point, so the best reaction to that is to be proactive.
How to Achieve Success in Healthcare Construction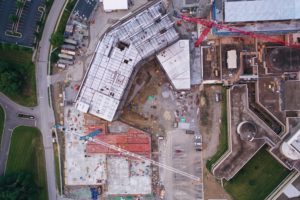 Achieving success in healthcare construction can be measured in a few ways. Ask yourself these questions after each build to assess the project.
Design — Were the design goals of this project met?
Budget — Did the project meet its budget?
Time — Was the project on schedule?
Scope — Was all of the work included in the initial scope and plan?
Unforeseen — Did we plan for unforeseen circumstances? Did we handle them in a timely and cost-effective manner?
Our years of experience have taught us to always include the contractor in the initial design phase to help produce the budget and to perform constructability reviews. The more planning, prepping, testing, and reviewing that can be done before construction begins, the better the process.
Healthcare Construction Outlook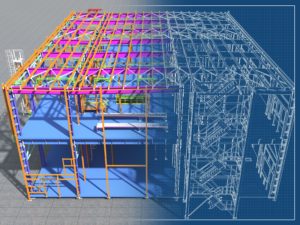 The latest technology at the forefront of healthcare construction is 3D modeling. Using advanced computer-aided design tools like BIM (Building information modeling) offers contractors an added dimension for construction project management. This supplementary data and insight allow for more details than ever before. New software and technology ensure integrated project deliverability which helps save on operation and maintenance costs in the future.
Additionally, the use of this technology is critical in an age of expansion of admissions. The technology allows for further design flexibility to accommodate growth post-construction.
Ensuring a Construction Project is in Good Hands
Establishing a strong foundation early in the project will drive a path towards success. A key component of the project, a budget, determines a great deal of the outcomes. Knowing how much a project can spend and in what areas the funds will be dispersed will help steer the project in a consistent, controlled manner.
In addition to properly establishing, planning, and maintaining a budget, it's important to partner with a construction company that takes into consideration the following factors.
Experience — Experience is more than just having projects under one's belt. True experience is having the knowledge and tools required to handle outside factors, unforeseen problems, and knowing what to expect.
Team — Having the right crew for the job makes all the difference. A good team is comprised of trust, hard work, and dedication. Committing to the vision and goals of the project must be important to everyone, and it all starts with selecting the right team
Design — Healthcare construction requires a sound, thoughtful, and solid design. Many factors need to be taken into consideration to ensure the design fits in with the budget, scope, and feasibility of the project.
Safety — Safety is key. It's crucial to incorporate safety measures and monitoring into every step. More importantly, safety needs to be adopted and embraced by every single person involved in the project. From the top management down, total safety culture is a must-have in a construction project to stay on target.
What Sets Valiant Group Apart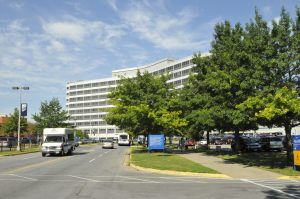 As proud veterans, we hold ourselves to a different standard. Valiant Group brings a unique experience and outlook to each project. That experience and outlook are bolstered by our reputation of respect, honesty, courage, and integrity.
Experience
Our diverse range of healthcare construction experience has put our skills to the test. Specifically, healthcare construction requires focus, dedication, and perseverance to work on multiple projects at a time. From managing multiple projects at a time to working with different hospital systems, to working around existing structures, we're proud of what we've accomplished.
Project Management
Especially in these times, adopting the latest technology has kept us on the cutting edge of the construction industry. With BIM software and other project management tools, Valiant Group creates seamless transitions throughout the project lifecycle.
Budgeting
As a part of our unique approach to budgeting and scope, we think about the HOW and work that into each project. This way, we can plan for the unplanned and ensure that the construction project stays on track to hit goals.
Recruiting
We've developed a recruiting and hiring process that allows us to keep an all-star bench of industry talent. This team is ready to go at any time, saving you in costs and scheduling time. Since we're always interviewing and screening, we're able to stay proactive and ready to work.
Valiant Group is offering a free budgetary estimate, feasibility study, or constructability review as a courtesy to you. Contact us today to discuss your next project.